Author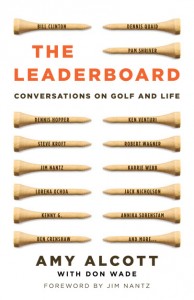 Every golfer has a story. And for many, sharing stories about the game's challenges and pleasures, legends and lore, is as much a joy as playing the game itself. Amy Alcott, one of golf's great personalities and an LPGA Hall of Fame member, has drawn upon her remarkable network of well-known golfing friends and gathered their stories for the first time ever.
In this entertaining and fascinating collection of candid conversations, Alcott offers a rare look at the personal lives and experiences — both on and off the golf course — of prominent entertainers, athletes, political leaders, and other influential figures. A fierce love of golf connects them all, but their varied anecdotes show how this magical sport has touched each of their lives in unique ways.
At times poignant, illuminating, and laugh-out-loud funny, The Leaderboard is sure to inspire and capture the imagination of golf fans everywhere.
You can purchase this book through Amazon, Barnes & Noble, or Borders book stores. Now available in paperback.
---
The Lesson Tee
Amy walks you through every step and swing on the green. Download PDF's of these articles at the links below.

"Become a Feel Chipper"
Golf for Women Magazine
May-June 2005
download PDF
"The Key Is…"
Golf Living Magazine
Premiere Issue 2005
Download PDF