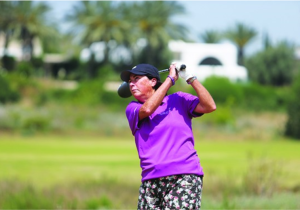 It is quite difficult to say no to a request from SHALVA , the Association for Mentally and Physically Challenged Children in Israel.
Which is how World Golf Hall of Famer Amy Alcott found herself in the Holy Land this week for the first annual SHALVA Golf Tournament, held on Monday at the Caesarea Golf Club.
"A close friend of mine in the US – Jewish sports agent Arn Tellem – was involved in sponsoring the tournament, and when he reached out to me to come to Israel and be the honorary chairperson, I was thrilled to help bring attention to SHALVA internationally about the wonderful work they are doing," said Alcott to The Jerusalem Post from SHALVA 's impressive headquarters in Har Nof.
(The new SHALVA National Children's Center will open its doors in August 2015 in the heart of Jerusalem.) Monday's tournament and awards luncheon in Caesarea featured more than 100 participants and raised vital funds needed to support SHALVA 's programs, which provide quality care for over 500 children with special needs, empowering their families, and promoting social tolerance.