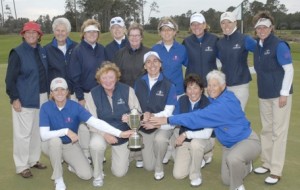 Team USA  won the fourth Handa Cup on Sunday Dec. 6 by building on an overnight 15-9 lead with 13 points in the final day singles.
The event was played the Slammer & Squire course at World Golf Village in St. Augustine, Fla. The U.S. has won all four Handa Cup meeting. The Handa Cup is sponsored by the International Sports Promotion Society owned by Dr. Haruihisa Handa.
This year, the full U.S. team consisted of:
Amy Alcott, Pat Bradley, JoAnne Carner, Beth Daniel, Cindy Figg-Currier, Sandra Haynie, Christa Johnson, Rosie Jones, Marilyn Lovander, Cindy Rarick, Patty Sheehan, and Sherri Turner. Captain, Kathy Whitworth. Assistant Captain, Lori West.
Handa Cup
December 5-7, 2009
Slammer & Squire
St. Augustine, Florida